SMD installation
Surface mounting is called SMT (Surface Mount Technology).
SMD is a Surface Mount Device, that is, a component or device mounted on a surface. Sometimes SMD elements are called chip components, for example, a capacitor chip or a resistor chip.
The whole point of SMT technology is to install electronic components on the surface of the circuit board.
Compared to the technology of mounting components into holes (called THT - Throuth Hole Technology), this technology has many advantages.
Production of semiconductor case SMD LEDs for lighting and decorative lighting
High quality materials for production from European suppliers
Air cleaning and ventilation system for organization without dusty production
Automated machines and other industrial equipment
Antistatic floor with graphite impurities
The procedure for cleaning the working form in a special air shower with dust-collecting flooring
SMD assembly stages
SMD assembly stages
Receipt of components from the warehouse, according to the production task.
Storage and preparation of components for the passage of the manufacturing route.
The combination of a flexible printed board (multi-workpiece) with an aluminum substrate.
Loading substrates in stores for automatic feeding of boards in the line of the surface mount site.
Applying solder paste to contact pads of multi-blanks on an automatic screen printing printer.
Visual quality control of screen printing.
Automatic installation of components on a multi-core, with solder paste applied on it.
Visual quality control of the installation of components.
The passage of multiguns with components installed on it in the zones of heating and cooling of the reflow oven.
Separate multiguns with soldered components (panels) from aluminum substrates.
Visual quality control of soldering by the technical control department.
Monitoring the operation of the method of connecting power to the terminals of the panel
Transfer of a set of panels for further passage along the manufacturing route.
equipment
Automatic screen printing printer SunEast SL120
A design that ensures accuracy, stability of solder paste application and equipment stability.
Automatic adjustment of the X, Y and Z axes via servo drives.
An advanced system of combining a printed circuit board and a stencil can significantly reduce the time to set up equipment.
The conveyor system allows you to move the printed circuit boards safely and at high speed.
Stencil cleaning system from solder paste residues and spraying wash liquid
Ability to select the frequency of cleaning and the mode of washing, the ease of replacement of the wiping material
Easy-to-read WINDOWS interface, self-diagnosis system, SMEMA interface support.
Specifications
Maximum PCB Size:
1200 mm × 360 mm (standart)
MinimumPCB Size:
IPCB: 80 mm× 50 mm
PCB thickness:
0,2 mm~ 6,0 mm
Minimum Stencil Size:
1 000 mm× 300 mm
Maximum Stencil Size:
1 500 mm × 650 mm
Stencil thickness:
20 mm~ 40 mm
Transportation height:
900 ± 40 mm
Print accuracy:
> ± 25 mkm
Print cycle time:
≥11 sec
PCB Support Mode:
magnetic pin, magnetic block. Vacuum chamber (optional)
Pcb clamp:
side clip, clip on top
Print speed:
5 ~ 200 mm/sec
Print pressure:
0 ~ 20 kg
Transportation speed:
500 ~ 1500 mm/sec
PCB feed direction:
Left-right, right-left, left-left, right-right.
Power supply:
AC 220V ± 10% 50 / 60Hz, single phase
General power:
around 3 kVt
Air supply:
4,5 ~ 6 kgf/cm2
Dimensions:
2200 (L) × 1350(W) × 1500(H) мм
Automatic installation of components Hanwha SM481 Plus and Hanwha SM481 L
The component installation machine is equipped with one portal with ten installation heads of the latest design.
The cameras for centering are located on the installation module in such a way that the process of component recognition occurs quickly, eliminating unnecessary movement of the installation module itself.
Due to the speed of movement of the components, you can achieve a maximum performance of 39,000 computers / hour.
The machine allows high-speed installation of components ranging from chip 01005 to IC and components with dimensions up to 16 × 16 mm and height 10 mm.
The high accuracy of the machine and the presence of centering cameras allow you to recognize and install components in increments of up to 0.3 mm.
The installation allows you to work with a large number of both electronic and pneumatic feeders.
Specifications
Performance:
up to 39,000 computers / hour
Chip Installation Accuracy:
± 30 µm with 3 sigma
Number of seats for pipateli 8 mm:
120 positions
Minimum component size:
01005
Height of installed components:
up to 15 mm
Work with printed circuit boards:
up to 740 × 460 mm
Reflow oven SunEast IPC-710Aeco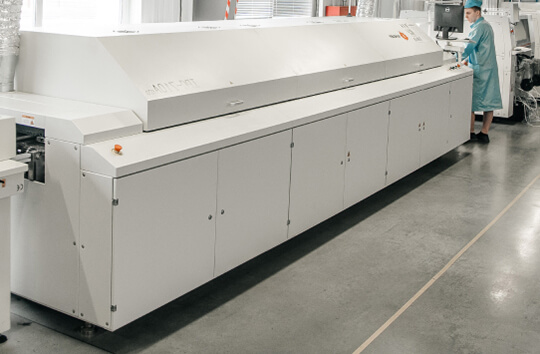 Conveyor system: stable and reliable construction.
Cooling system: Patenteel design.
Adjustable temperature.
Easy to maintain and clean, the design of the heating module.
Front and rear air circulation.
Ensuring the accuracy and stability of temperature and air velocity.
Specifications
Dimensions:
5750×1430×1450mm
Temperature zones:
10 (20 heating modules)
Temperature Range:
up to 320 oС
Temperature error in the furnace zones:
±1 oС
Maximum conveyor width:
900 ± 20mm
Conveyor speed:
Conveyor speed:
Flux filtration system:
double
Windows interface:
Windows interface